One of the highlights of my experience at the ABC Kids Expo was a presentation on car seat safety featuring the Safety 1st Complete Air Car Seat. It was really informative to hear about the risks of side
impact crashes for children and how that motivated the Air Protect system. The Safety 1st booth at ABC Kids even had simulator to demonstrate the force of a side impact crash upon the Complete Air Car Seat. (If you want to see the demonstration and a video similar to what I saw at ABC Kids, watch the video at the Air Protect website. It's worth a look!)
Side Impact Crash Facts
* 1 in 4 car crashes involving children are side impact collisions.
* Side impact collisions are among the deadliest type of collision for children, accounting for 1 in 3 child crash fatalities, nearly all of which are caused by head trauma.
Safety 1st worked with the Kettering University Crash Safety Center to develop and test the revolutionary Air Protect System to protect a child's head.
How Does Air Protect Work?
During a crash, the system immediately shields your child's head from the impact. In a second layer of defense, Air Protect™ allows air to escape from the headrest: channeling crash energy away from your child, creating more ride down time. It is this double layer of protection that makes Air Protect™ technology unique.

Complete Air Convertible Car Seat Basics
The Air Protect Technology is currently available in the Safety 1st Complete Air Convertible Car Seat. The Complete Air is suitable for infants in the rear-facing position from 5 to 40 pounds and 19 to 41 inches and for forward-facing toddlers from 22 to 50 pounds and 34 to 45 inches.
To safely accommodate such a wide size range, the Complete Air has an Adjustable Headrest with five different positions. The headrest is a key component of the seat as it contains the Air Protect technology. I also appreciate the Quick-Fit Harness System that allows you to move the harness height from the front while the car seat is still installed.
After all I learned about the car seat at ABC I was thrilled to have the opportunity to use the Complete Air with my own children.
Installation
During the discussion of the Complete Air at ABC Kids, I asked the Safety 1st Director of Design and Engineering about the ease of use. As you probably know, the majority of car seats are not installed correctly. So, the folks at Safety 1st can create a brilliant, revolutionary car seat, but if I can't install it correctly it won't work properly. To that end, Safety 1st uses a color-coded installation guide (in the User Guide and on the Car Seat) to distinguish between forward and rear facing instructions.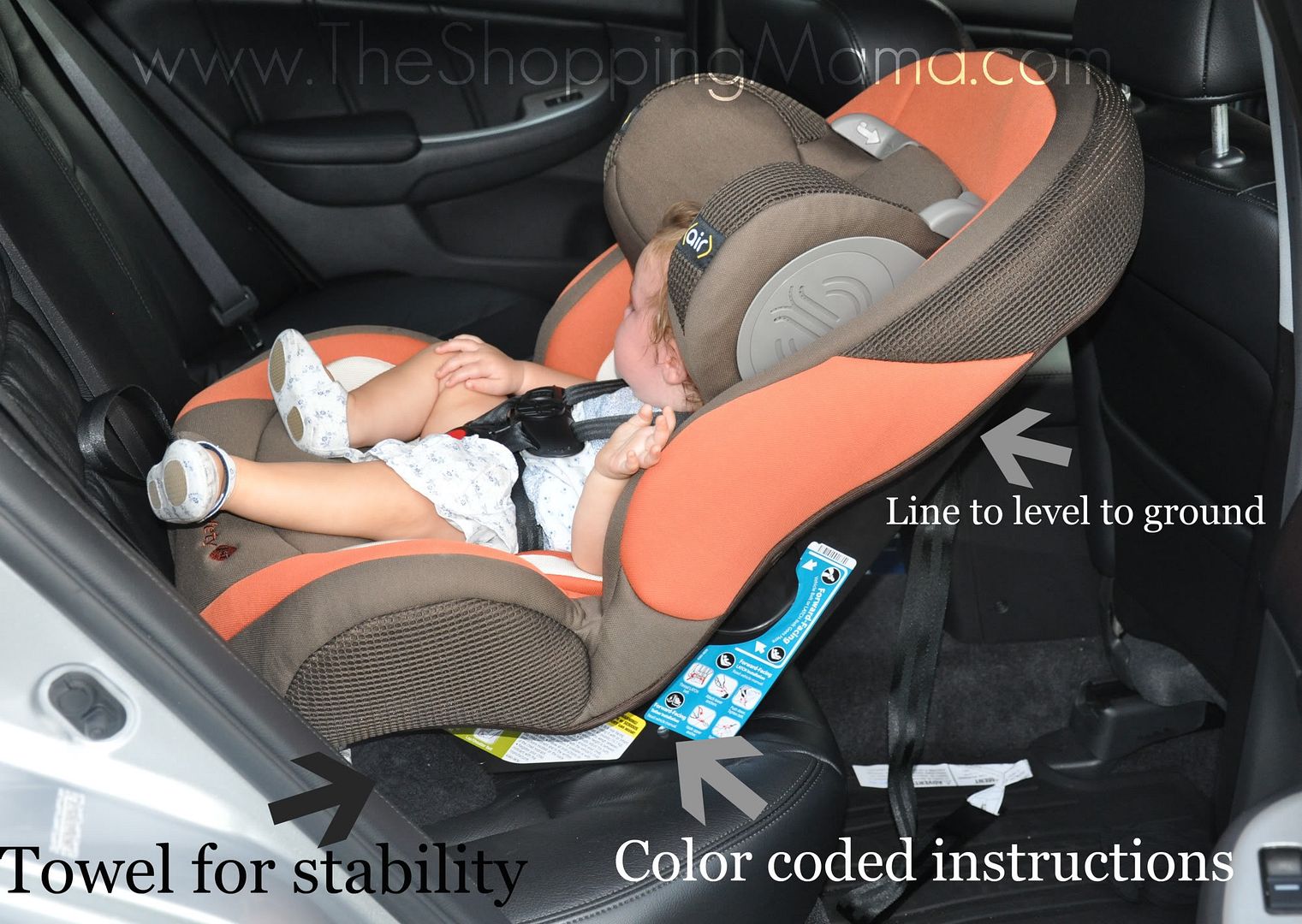 I had an easy time installing the Complete Air in the forward facing position using the LATCH system. It was very straightforward and just plain easy. Installing the Complete Air rear-facing was a different story. After several attempts at installing it and not being able to get it secure, I watched the Installation Video on the Air Protect website and that helped quite a bit. For me the most difficult part was getting the seat snug and at the correct angle. As recommended, I had to use a rolled up towel to secure the Complete Air at the correct rear-facing angle.
Which brings me my second concern with this seat: you have to lean the car seat backwards so far to achieve the correct rear-facing angle that it makes the seat so deep that it hangs well over the seat of the car. I had to move the front seat of our sedan to the forward-most position to fit the Complete Air in the rear-facing position. I think it might fit better in a minivan, but you might have a hard time securing it rear-facing in a small or compact sedan.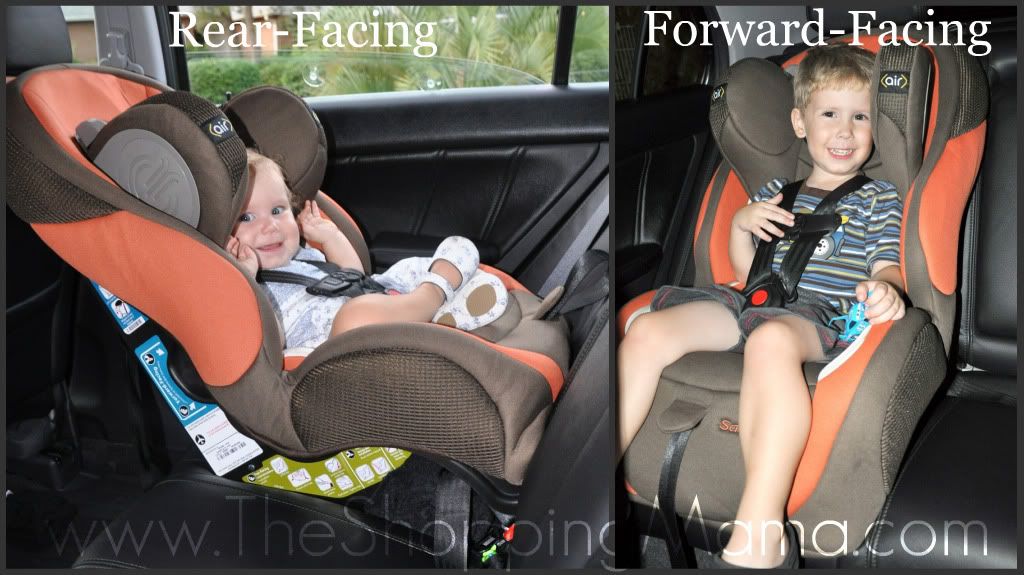 Comfort
After his first ride in the Complete Air, Toddler Boy asked to ride in it again and again. It's been installed in my husband's car and it was like a special treat when he got to ride in his new car seat. I don't blame him. The Complete Air has lots of extra cushion that his other car seat lacks. For example, the padding at the hip level and cushion around the harness are plush and look super comfy.
To Buy… After learning more about side-impact crashes, I completely appreciate the motivation behind the research that resulted in the Air Protect technology. I actually like it so much that we may buy a second Complete Air so both children have one when Baby Girl is bigger and old enough to ride forward-facing.
Or Not to Buy… The Complete Air is not the best fit for us to use as a rear-facing car seat. It's just too big for our cars and we had a difficult time installing it correctly.
Shop! Available in two colors (McKenna and Harvest), the Complete Air Convertible Car Seat is sold exclusively at Babies R Us for $249.99.
Win! A Safety 1st Complete Air Convertible Car Seat!
How to Enter: Take a look around the Safety 1st and Air Protect sites. Leave one comment telling me another Safety 1st product you'd like AND what color Complete Air you'd prefer if you win.
Bonus Entries – leave a separate comment for each you do:
* Follow The Shopping Mama on Twitter and Tweet about giveaway. You may do this every day, just leave a comment every time you tweet:
Win a Safety 1st Complete Air Convertible Car Seat @TheShoppingMama http://bit.ly/1TfKql
* Update your Facebook status to include a link to this giveaway
* Follow Safety 1st on Twitter
* Fan Safety 1st on Facebook
* Blog about giveaway including a link to this post for TEN entries
* Post the Holiday Gift Guide button on your blog
* Add The Shopping Mama to your blog roll
* Follow The Shopping Mama in Google Friends Connect
* Subscribe to The Shopping Mama in email or a reader
The Fine Print: Please leave a valid email in the comments so that I can contact you if you win. If you prefer, you may email me directly with your contact information after leaving valid comments. If Facebook is the winning entry, you'll have to friend me to confirm. Open to US residents only. Giveaway ends November 16. Winner will be notified and has 48 hours to respond or a new winner will be chosen. Thank you to Safety 1st for providing a sample product for the purposes of this review. The opinions expressed are mine and uninfluenced by receipt of product. Others may have a different experience.